This year I am determined to enjoy this life to the fullest. Some of my closet girlfriends have moved away and I refuse to let the distance get in between our relationships. 2010 will be year filled with great memories, good company, and delightful cuisines. Here are some things I plan on doing this year: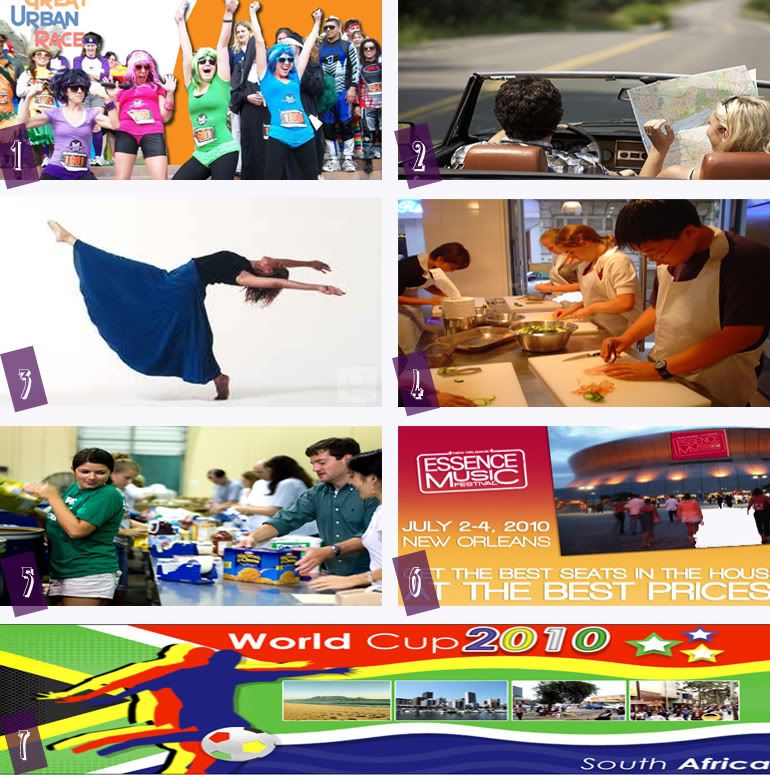 1. The Great Urban Race
- I heard about this a few years ago and said I wanted to do it but never have. Basically, the Urban Race is like the Amazing Race. You are in a team of two completing 12 tasks within your city and digitally documenting the adventure. Check to see if they have it in your city by
clicking here.
2. Road Trip / Traveling
- Charlotte, Virginia, New York, New Mexico here I come!
3. Contemporary Dance Lessons
4. Cooking Classes
- Especially for Vday. I want to have more dinner parties, so the best way to become the perfect hostess is to be able to wow my friends by taking some different types of cooking class. I really want to take this sushi class they have in Atlanta.
5. Volunteer -
I keep saying I will do this but seriously this year I want to find an organization that I am passionate about, especially something geared to young teenage girls.
6. Essence Festival
7. 2010 World Cup -
I will be going to the Brewhouse Cafe regularly this summer to watch the World Cup.

Go Nigeria!!!
What are some things you want to do this year? Jump out of an airplane, go on a cruise, or take pottery classes? Please do share!

{Photos via Google}